Help us deliver critically needed art supplies & art programs to 24K kids this #GIVINGTUESDAY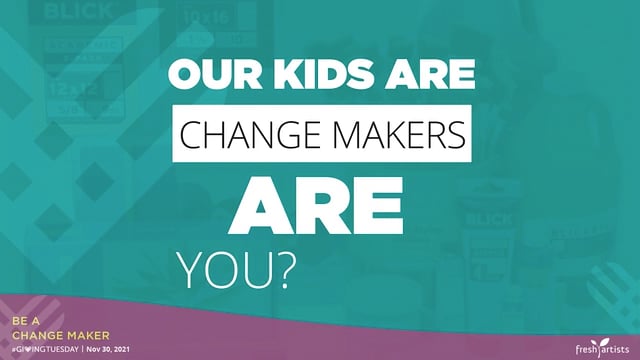 Be like Fresh Artists' kids, be a change maker this #GivingTuesday! Fresh Artists empowers compassionate, creative and capable young people to tackle the critical shortage of arts funding in our nation's underfunded public schools. 
Join Fresh Artists' kids in helping to deliver critically needed art supplies and innovative art programs to more than 24,000 children this school year!
The Art Teachers we serve nationwide teach an average of 600 children per week and are given LITTLE to NO budget for art supplies. Every year they struggle without essential supplies to do their jobs to give their kids a quality public education.
"I don't know what I would do without Fresh Artists. My principal gave me ZERO money for supplies. ZERO. I teach 750 kids a week. Thank you for making it possible for my kids to thrive through visual arts!" - Christine, Art Teacher
From now until Nov 30th, #GivingTuesday, we need your help raising our goal of $10,000. Every $10 donation will impact 24 kids!!!
The first $2,500 will be matched by a special friend of Fresh Artists! 
WHAT YOUR DONATION CAN DELIVER
$12: 500 sheets of white Drawing Paper
$26: 30 bottles of Elmer's School Glue
$50: 30 sets of Sakura Cray-Pas oil pastels
$100: 5 buckets of Crayola Model Magic air dry clay
$250: Acrylic Painting Kit (143 essential materials!)
$500: Drawing Kit + Painting Kit (1,460 essential materials!)
$1000: 4 essential Art Kits (1,794 materials!)
              Young Artists Glue + Paper Kit 
              Acrylic Painting Kit
              Block Printing Kit 
              Sculpture Kit 
OTHER WAYS TO HELP KEEP KIDS CREATING: SHARE OUR CAMPAIGN!
SOCIAL MEDIA KIT DOWNLOAD
Click the button below to download everything you will need to share our campaign on your social media pages! 
START YOUR OWN FRESH ARTISTS FUNDRAISER
Give Lively makes online fundraising easy and impactful.
Just click the button below to start fundraising today! 
Know an Art Teacher that needs supplies?
Great news: any full-time Art teacher in a qualifying low-income public school nationwide may apply for their school to receive Fresh Artists' Art Kit Grants of art supplies!